Why Choose Us?:

 Highly reviewed.  

 Locally owned & operated.  

 Accurate price quotes (FREE estimates).  

 NO high-pressure sales.  

 On time & friendly service.  

 Highly trained staff & cleaning professionals.  

 Fully Insured.  

 State-of-the-art equipment.  

 Superior brand name products.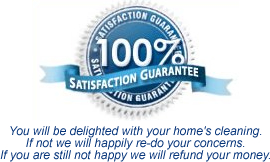 $$ Referral Program $$
-
As one of our valued customers, for every new client you refer to us, we will reward you with a 10% referral fee. When you refer someone, you will automatically receive a certificate for 10% of the amount they spent with us. You may use this for FREE CASH or FREE CLEANING. To redeem the certificate, simply present it toward a cleaning job, or send it to our office to redeem it for cash. It's that easy!